Facilities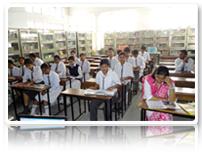 Our library, is open on all working days from 7:45 a.m. to 3:30 p.m. All students attend weekly classes at their designated library period. Weekly classes include library and research skills, literature appreciation, reading comprehension skills and the structure of expository writing. All students have access to library materials and can check out books during any school day.
A new, expanded library space allows for a larger library collection, space for the entire class to sit comfortably under natural lighting, and four computers with concurrent access to the school's network and the internet.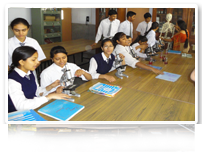 We at St. Joseph's Academy don't exaggerate when we say that the laboratories in our school are the best compared to the neighbour hood schools.
A large , modern state-of-the art Biology Laboratory is fully equipped with about 125 charts, 75 specimens, 50 slides, scores of models and mounts catering to both middle and senior school.
A spacious and well-equipped Chemistry laboratory can accommodate 50 students at one time. The laboratory has a demonstration table, modern shelves to store reagent bottles, sinks and charts. Proper safety measures are strictly followed.
There is a Physics laboratory which can cater to about 50 students at a time . Fitted with latest equipments, the laboratory is replete with charts and working as well as dead models. The school ensures that each student is able to work with one apparatus.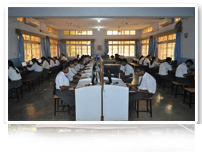 Two sophisticated state-of-the-art computer labs with 45 computers each, uninterrupted power supply, stand-by generator and round-the-clock internet facility is the pride of the St. Joseph's. All the teachers are computer literate and have undergone IT training. Technology-aided teaching is effectively carried out using an LCD Projector in an air-conditioned audio visual room.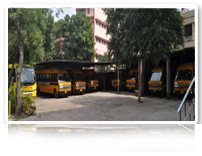 St. Joseph's students come from the far reaches of Ghaziabad and beyond. An efficient transportation system operates to take the students to and from the school punctually and comfortably. Buses ply 22 different routes, making St. Joseph accessible to students from every part of the city and its suburbs.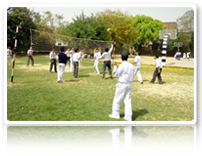 St. Joseph's Academy provides excellent infrastructure, one of the best among Ghaziabad schools, for the students to excel in sports. These include all facilities for athletics, a badminton court, two basket ball courts, one cricket and football field. Students are given the freedom to choose and specialize in any sport of their choice.
We have produced numerous sports stars in various games. St.Joseph's actively competes at all levels of sports- inter-class, inter-house, inter-school and zonal.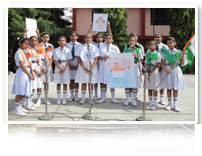 Every student has classroom music instruction weekly. The music curriculum includes singing, performance, music history and appreciation, note reading, instrumental instruction (at some grade levels) and integration with other curriculum areas, as appropriate.
We have a well-equipped AV room with TV, CD player, Tape Recorder, OHP and a variety of educational CDs. All these facilities are availed regularly by our students for their curricular and co-curricular activities..
Carmelites of Mary Immaculate congregation was founded by Blessed Kuriakose Elias Chavara at Mannanam in Kerala on the 8th of December 1955. Blessed Kuriakose Elias Chavara was born on 10 February 1805. He contributed greatly to the development of education in the contemporary society by starting two congregations namely: Carmelites of Mary Immaculate (CMI) and Congregation of Mother of Carmel (CMC) to promote education. When he was the Vicar General of the Vicariate of Verapoly he directed that every.
Important Links
Recent Photos